How to set up facebook for a business – important first steps:
Step 1. Go to facebook.com and click on "Create a Page".
Step 2. Select Business Page Type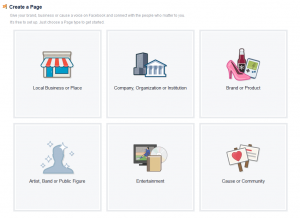 Categories to choose from;
Local Business or Place – Choose this category if you are a local business who serves primarily your local area.
Company, Organization or Institution – If your service or product offering extends outside of your local area.
Brand or Product – This is a good choice if you have one primary brand or product offering.
Artist, Band or Public Figure – Choose if you are a musician, author, speaker, politician or other public representative or figure.
Entertainment – This is for companies that offer an entertainment channel or source. It is for specific movies, games and other entertainment releases.
Cause or Community – If you are a non-profit organization or an organization that has a primary cause or charity select this category.
Step 3. Initial Business Page Set-up Steps
1. Upload your logo icon and configure the size to 160 x 160. It will appear that size on your main profile page and smaller in your news feed, timeline and next to comments; 100×100, 86×86 and 43×43 respectively.
Add a Short Description.  You only get 155 characters, not words here so be brief and to the point. Use targeting language that focuses on your key offerings quickly.
In order to unlock a custom Facebook URL you must aquire 25 fans.
Step 4. Add a Cover Image
Click on "Add a Cover".  You can choose from your library of photos that you have already uploaded to your account or you can choose to "Upload a Photo".
The cover image is the largest visual space on the page so you should make an effort to create a visually appealing image that communicates the essence of your company and moves the user to a specific action.  The cover image size needs to be 851×315 pixels but with margins to account for Facebook cropping that occurs on the right and left margins, bringing the center of the picture to a 563x315pixel focal point. Spend some time making a quality cover image as this is the primary banner ad for your company page.
Free quote for an optimized, professional Facebook cover image :
After you have added your cover image don't forget the very important step of adding a button. The link to add the button will appear after you have added the cover image in the bottom right space.  Click "Add a Button" and enter the URL of where you want the button to link to.  It should link to the primary action you want your customers to take such as going to the company website, contact form, product landing page or order form.
That concludes the important first steps of setting up Facebook for a business.  There are a ton of promotional and networking features to configure after these first steps are completed but this will get your business Facebook account started.