Top Twitter Success Stories
As of January 2017 there are 500 million tweets posted each day. There are approximately 7.4 billion people on the planet.  The number of tweets per day is only going to rise as people become Internet connected and learn of Twitters quick and easy chat and picture capacity.  The creative uses and power of this type of networking help facilitate some inspiring success stories. Here are just a few top examples of unbelievable twitter success events connecting people and opportunity;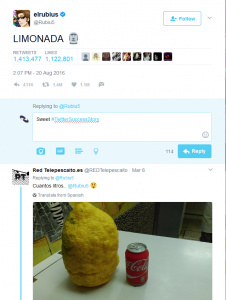 #TwitterSuccessStory
No. 1
Elrubius, a famous gaming YouTuber announced a contest on his YouTube channel in August of 2016. He listed a bunch of gaming give-aways and promised their disbursement as rewards for generating the largest number of re-tweets ever.  His fan base went crazy and accomplished his goal earning Elrubius the largest retweet of "Limonada" for 2016.  Why limonada?  Because at the end of his gaming give away line up he included 4,000 lemons.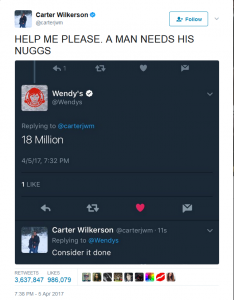 #TwitterSuccessStory
No. 2
Carter Wilkerson, a man hungry for "nuggs".  While ordering chicken nuggets at Wendy's he tweets the company, "how many retweets for a year of free chicken nuggets?" Wendy's chicken nugget reply's with "18 Million".  He responds, "Consider it done" and tweets out "Help me please. A man needs his nuggs" earning him over 3.4 million retweets by May of 2017.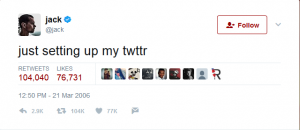 #TwitterSuccessStory
No. 3
Jack Dorsey, co-founder of Twitter, made his first official Tweet on March 2006 and made history, "just setting up my twttr".  Profound, no.  Historical, yes.  Twitter.  Essentially a really cool public texting chat board with pics.  Fast forward ten years and one billion tweets are being posted each week.  You've come a long way Jack.
#TwitterSuccessStory
No. 4
Stephanie Sullivan accepted what just might be the very first marriage proposal from Greg Rewis via Twitter in 2008. Judging from Stephanie's current last name, this is still a huge success story!
#TwitterSuccessStory
No. 5
Venture Capital Score.  Stacey Ferreira responded to a tweet invitation from Richard Branson to donate $2,000 for his charity to gain access to a meet and great at an event he was hosting.  Stacey and her brother paid the donation, met with Branson and scored $1 million in VC to get their start up, mysocialcloud, off the ground. Three years later they sold their start up to Reputation for an undisclosed amount.
Do you have a Twitter success story?  Share it with #TwitterSuccessStory or share a full description with us – we'd love to hear it!